Edu domain extensions are restricted to educational institutions, And most of the .edu domains are register by US-based educational institutions. Students or staffs of some specific institutions are getting their own personal email address with .edu extension and a major portion of students are not having this type of email addresses, Especially those who are outside US. These .edu email addresses will help you to get lots of discounts on softwares and services. In this article, I'll guide you to get free .EDU email address.
Benefits of Getting a Free .EDU Email Address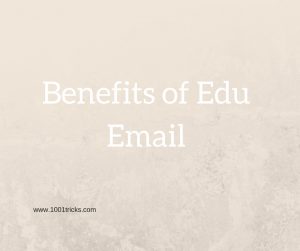 Last year, We got too many cool offers with EDU mail address. Like, We got Amazon Prime free for 1 Year, the Last Pass gave away premium accounts 6 months for free, Connectify gave away premium accounts for free, Microsoft gave away Xbox 360 with Windows7 PC, Microsoft Office gave 50% discount. And there are many more offers like free Dropbox space and free 1 month trial to Hulu Plus which are still available for students.
Attention: The internal data of table "1" is corrupted!
Steps to Get a Free Edu Email Address
I've mentioned some of the methods by which you can obtain a free email address ending with .edu extension. The first method is the most recent one which was tested multiple times to verify it still works. The second method is a bit old, I'm not sure if it still works or not.
Latest Method for Registering a Free .edu Email Address (April 2019)
Follow the steps mentioned below.
Visit CCCApply website.
Choose 'Canada College' from the options available under 'Select a community college'.
Apply for admission using the form displayed in the next step.
Use a California address and school details while applying. (You can generate random US address by clicking here.
You'll receive your free email id ending with .edu extension as an email after successful application. It may take up to two days to receive the details.
Method 2 (Old one)
Go to This Link.
Only check the box for 'I am a new student and have never attended any Maricopa Community College or Skill Centers.' Then enter confirmation code and click 'Next'.
Then fill up the form. You need a Social Security Number (SSN) and Phone Number for account creation. You can get fake SSN numbers and phone numbers from This Link.
Complete the registration by providing some basic information.
After completing, you'll get an EDU email address with a student ID. Your email address will be something like (name@maricopa.edu)
They will take about 20 minutes to activate your account.
After 20 minutes, go to This Link and login to your .edu email account with your Student ID and Password.
How do I get an edu email address?
The second method mention above is almost four years old, I don't know if it still works or not. But, as there are plenty of users still coming to this page looking to find a relevant information on finding a free educational
mail address
, I thought it would be good to update this page with an updated information.
Nowadays it's hard to register your own free educational email address, as there are plenty of restrictions. I spent almost an hour to find another working method, but all my effort ended in vain.
You can get an email address ending with .edu by just spending $5 on
Fiverr
. And I think it's better to spend that amount than spending your valuable hours for no result.
Buy Edu email address for – Click here (It's not my gig)
— link is not working anymore.
I'm still searching for new free tricks to get edu email, I'll update this page if I find any new method.
Now you are having a .edu email address. Go and search for all the available offers for students with educational institution email ID and grab them all.