NDTV has launched their desktop client called NDTV Play. The one app with all the features you needed. With NDTV Play, You can watch all your favorite videos episodes from NDTV for free 24×7.

NDTV Play Features:
Watching all the 5 channels of NDTV live for free (24×7).
Find and watch all favorite episodes of your favorite shows.
Be updated with the latest trending news and stories.
Share the latest happenings with your friends via social networks.
Make playlist of your favorite videos.
Vote, Comment, and be social 24×7.
Now I can watch my favorite episodes from Gadget Guru, Cell Guru, The Car And Bike Show, All About Ads, And more via NDTV Play. I've always requested Rajiv Makhni for making a solution for watching the episodes of Cell Guru via internet.
NDTV Play contains about 50 episodes of Cell Guru and same number of collections for other shows.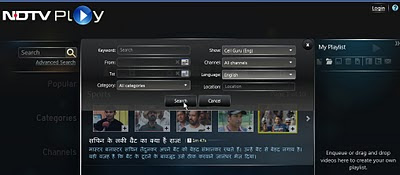 Advanced Search Feature Of NDTV Play
Best Of Cell Guru 2010
Login with your social account ( Facebook, Twitter, Google, Yahoo ) to make comments and to save your playlists.
Download and try NDTV Play