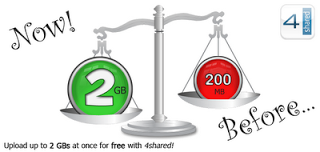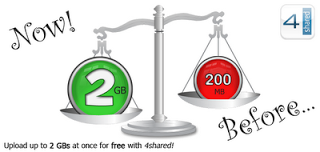 Now you can upload and share files of size upto 2gb for free using 4shared file sharing service. Say goodbye to splitting and sharing of files.

How To Make Uploading Faster On 4shared?
You could make the uploading process faster by using the desktop application of 4shared. It will help you to copy your documents and media files just like copying to any other windows drive.
Why Is 4shared Different From Other Free File Hosting?
The best feature of 4shared free file hosting service is the ability to access our uploaded files via our mobile devices.
Whats Not So Cool With 4Shared?
The biggest disadvantage of 4shared free file sharing is that, If you doesn't logged into 4shared.com since 30 days or more, Then your saved files will get deleted. You can overcome this problem by upgrading to premium account.


So, Why waiting, Try the new 4shared now!
Also Read: Upload And Share Files Without Singing Up
Image Source: 4shared Blog