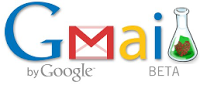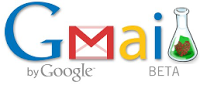 Now Gmail Has A New Feature Called Nested Lables, It Has To Be Enabled From Gmail Labs Before Using.

Labels Are More Flexible Than Folders Because A Given Email Can Have Several Labels But Can't Be In Several Folders At The Same Time. A Highly Requested Feature For Labels, Though, Comes From The World Of Folders: The Ability To Organize Labels Hierarchically.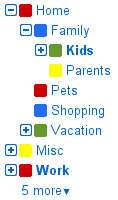 If You Think This Might Be Useful To You, Go To The Gmail Labs Tab Under Settings, Look For "Nested Labels," Enable It And Click "Save." You'll Then Need To Name Your Label With Slashes (/) To Make It The Child Of Another. For Example, Let's Say You Wanted To Create A Simple Hierarchy With A "Home" Label, And Inside It A "Family" And A "Vacation" Label. Just Create Three Labels With The Following Names:
Home
Home/Family
Home/Vacation
You Can Then Create "Home/Family/Kids," "Home/Pets," Etc., To Get Something Like The Screenshot On The Left. If You Had The Parent Label "Home" Before You Don't Have To Create It From Scratch.
You Can Create Complex Hierarchies Of Labels If That's The Way You Like To Organize Your Mail, And You Can Expand/Collapse Labels To Save Space. You'll Always Be Able To Tell Whether A Given Label Contains Unread Messages In Its Collapsed Child Labels By Looking At Whether It's Bold Or Not.
Please Note That This Lab Doesn't Play Nicely With The "Hide Read Labels" Lab. You Might Not Get Exactly What You Expect If You Have Both Labs Enabled; For Example, The Collapse/Expand Icons Won't Always Appear When They Should.
Read The Original Post On Gmail BLog