India's ultra low cost android tablet, Aakash/UBI Slate is available for pre-booking form its official website. Alredy, More than 14 lakh tablets got booked through online booking. But people who have booked for the tablet are facing difficulty in finding their booking status. In this article, I'll tell you some tips to check your booking status.
How To Check Pre Booking Status Of Aakash Tablet
Presently, Datawind has introduced two versions of android tablets. One is the basic version of Aakash tablet and the other version is UBI Slate which has much better specifications than the basic one. Ubi Slate costs 500 rupees more than the basic version.
Datawind already sold out its basic version of aakash tablet. If you are planning to book now, You'll be able to book UBI Slate only. And if you are booking now, You will get the tablet by April 2012.
Now the only way to check the booking status of your aakash ubislate is by contacting datawind officials by a written email with your booking ID.
Email address of datawind support: supportin@datawind.com
Or you can simply submit a support form using this form.
Update:
By sending a mail to the Datawind support team, I got the following mail as a reply.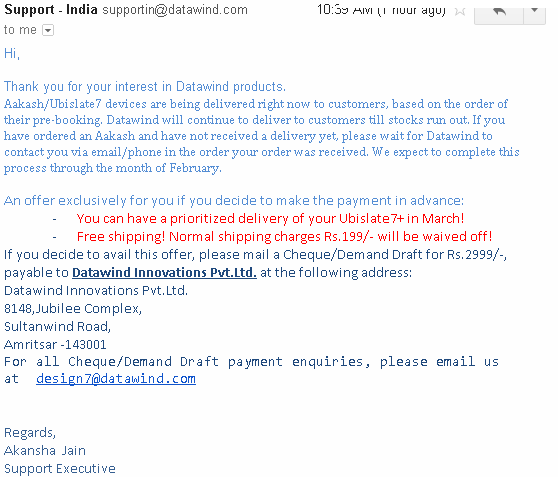 I hope that the same mail would be send to everyone. As per datawind, You may get your Ubislate in march 2012. They will contact to on phone or email before sending your item.
You can contact datawind via phone, Their contact number is 1800-180-2-180
Check The Booking Status By Datawind's Official Website:
Datawind recently updated their website with an option to check the pre-booking status of Aakash Ubi Slate tablets. You just need the Booking ID which you gets at the time of booking. A direct link to booking status checking page is provided below.
Click here to check your Aakash tablet booking status.
Thanks to Vijay Kumar for his tip.