Google's Realtime Search Is A Great Service For Finding Updated Realtime Results For Your Search Queries.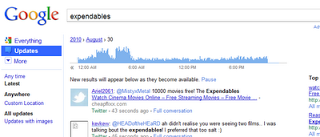 How To Use Google's Realtime Search:
* Goto Google.com/Realtime
* Enter Your Search Query In The Space And Click Search
* There You Have Your Realtime Results.
Most Of The Results Are From Twitter, If You Are Looking For Twitter Updates Only, The You Can Use Twitter's Realtime Search Or Try Google Powered Twitter Update Search.