After the successful launch of Google+ and Gmail's new interface, Youtube is trying to roll out a new video viewing interface. Now the feature is only available for testing.
How To Get Youtube's New Interface?
Youtube are calling this update as Cosmic Panda. You can experience the change in Videos, Playlists and Channels.
For getting this new interface, go to youtube.com/cosmicpanda
Then click Try it out.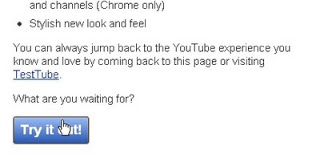 Then start using the new interface.
You can always get back to youtube's older interface by going to youtube.com/cosmicpanda