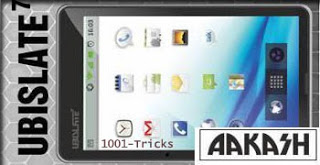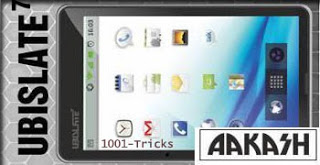 The public launch date of the much awaited android tablet is approaching. This article should be helpful for those guys who want to pre-order for the Aakash Ubislate7 Android Tablet.

About Aakash UBISlate7 Tablet
[image source: ubislate]
For those who haven't heard about Aakash tablet before, Let me introduce the cheapest android tablet which is a product of Indian brains.
The Aakash is a 7" Android 2.2 touch screen tablet that has a HD video co-processor for a high-quality multimedia experience and core graphics accelerator for faster application support. The Aakash tablet is the only Android device in the market to offer DataWind's UbiSurfer browser, based on 18 international patents. The UbiSurfer browser accelerates web pages by factors of 10x to 30x, allowing for a web experience who's speed is unrivalled.

The device includes WiFi connectivity and support for optional 3G modems. Two full-sized USB ports are integrated into the unit allowing pen-drives, external keyboards, web-cams, dongles and other inexpensive peripherals to be attached. "Pen drives are a common medium for storing and sharing content in India. They are even used by people that are not computer savvy, for access to music and videos. A full sized USB ports allowing regular pen-drives to be plugged-in is also available as an added advantage over other Tablets.

A key accessory offered with the Aakash tablet by DataWind, is the Leather Keyboard Case. The leather case not only protects the device, but has an integrated keyboard case allowing fast typing and conversion of the device as a small notebook.
Source: Ubislate.com
Book For Aakash Tablet Online For Free
Some authentic sources confirmed that the public release date of Aakash U7 tablet has been postponed to January 2012. But in the mean time, You can pre-book for the tablet via its official website.
You don't have to pay anything for pre-booking. You just have to fill some basic information about yourself along with your email id. Pre-booking will provide you a UbiSlate Booking ID. By which you can check your booking status.
For booking, Visit www.ubislate.com/prebook.html