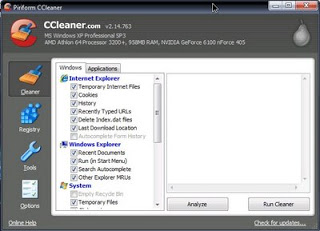 Use The Software Named Ccleaner , For Making Your PC Work Fast By Deleting Unnecessary Files From Your Hard Disc .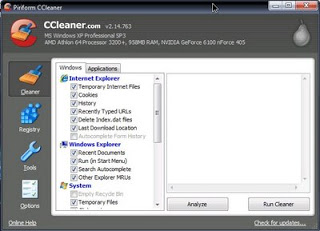 More Details From freewarefiles.com

CCleaner is a freeware system optimization and privacy tool. It removes unused files from your system – allowing Windows to run faster and freeing up valuable hard hard disc space . It also cleans traces of your online activities such as your Internet history. But the best part is that it´s fast (normally taking less that a second to run) and FREE! 🙂 Cleans the following:
Internet Explorer: Temporary files, URL history, cookies, Autocomplete form history, index.dat.
Firefox: Temporary files, URL history, cookies, download history.
Opera: Temporary files, URL history, cookies.
Windows: Recycle Bin, Recent Documents, Temporary files and Log files.
Registry cleaner: Advanced features to remove unused and old entries, including File Extensions, ActiveX Controls, ClassIDs, ProgIDs, Uninstallers, Shared DLLs, Fonts, Help Files, Application Paths, Icons, Invalid Shortcuts and more… also comes with a comprehensive backup feature.
Third-party applications: Removes temp files and recent file lists (MRUs) from many apps including Media Player, eMule, Kazaa, Google Toolbar, Netscape, MS Office, Nero, Adobe Acrobat, WinRAR, WinAce, WinZip and many more…
100% Spyware FREE: This software does NOT contain any Spyware, Adware or Viruses.
Note from FreewareFiles: This version of CCleaner includes the option to install the CCleaner Yahoo Toolbar which allows you to use CCleaner from your web browser. The toolbar does not have to be installed in order to use the program. What's New in version 2.15.815:
Added command-line secure deletion. e.g. ccleaner.exe /delete "folder*.*|MyFile.txt"
Added Google Chrome thumbnail cleaning.
Moved language files to /lang folder.
Improved options cookie list browser detection.
Fixed minor bug in XP prefetch cleaning.
Fixed bug in IE History Index.dat cleaning.
Fixed two minor compatibility bugs with Win98.
Installer engine updates.
Minor architecture improvements.
Download Ccleaner 2.15.815 (2.84 MB) From Here

or visit : http://download.piriform.com/ccsetup214.exe
After Installation Do The Following ( Recommended)
*Go to the advanced tab and tick all .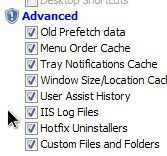 * Move to Options -> Advanced , Then un check Only Delete Files In Windows Temp Folders Older Than 48 Hours .