Here I'm Providing 2 Good Websites Which Allows To Receive Your Email Messages Into Your Mobile Phone As An SMS . These Works Only For The Indian Users .
*


visit email2sms and sign up with your email id and mobile number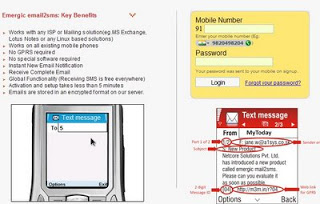 * You will get a confirmation email , confirm your email , then login to your account , They Will ask you to make some changes in your mail settings , ex:- forwarding a copy of your mail to yournumber@something.com
and start receiving your email updated on your mobile
* Note : There is a limit for number of sms updates you can receive on a day , I think its 5/day , But i am getting more than it . So try your luck
*



Gooseberry using this website you can receive your email messages as sms , visit http://gooseberry.in and register your device and email , and have to make some settings in your email account as done in the above account , After that start receiving your email updates as sms .
* Note : This service is not free , but you will get some free credits , if you like the service then you can join to their premium service .