Its Difficult To Find The Tweeters Who Are Talking On The Topic Which You Are Interested To Hear. But Now Its Much Easier With The Help Of TweetDeck Directory.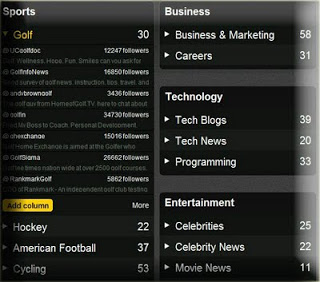 Read What TweetDeck Has To Say About Their New Service:-
Sometimes it's hard to find people talking about things you're interested in on Twitter. So we've created the TweetDeck Directory to make it easier to find and follow your favourite subjects, a bit like a TV Guide for Twitter channels.

Have a browse through the topics below, find one that takes your fancy and click 'Add to TweetDeck' and the column will be magically added to your TweetDeck.
TweetDeck Directory Is Very Well Categorized, So That The Users Could Easily Browse To Get To The Twitter Profile Which They Are Interested To Follow.
alsoread: Find The VIP Accounts On Twitter.