Popular Email Service Providers Like Gmail , Yahoo! Mail , Live Mail , Etc Limits The Attachment File Size To 20-30 , It Doesn't Satisfies Our Needs , There For Here Is A Solution.
If you had a B'Day party and you wanna share the videos taken on the party with your friend in UAE then what will you do ?
* Upload The File In Youtube ?
I Think Its Not A Good Idea , B'Coz Youtube Is A Public Video Channel , There For You Will Have No Privacy There.
* Upload In Rapishare or Any Other Hosting Site ?
Again Privacy Take The Role
Then Where I Should ???
Try SendThisFile.Com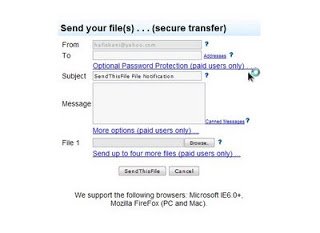 *Here You Can Email Files Of Any Size , It Just Don't Matters.
*But The File Will Have The Validity For 3 Days.
*It Can Be Downloaded Only For 3 Days.
*No Risk *Top Speed *Secure *Simple *Free
Also Try Skydrive