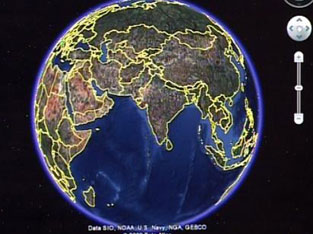 Image Source: ibn live
Serious Discussions Are Going On To Ban Google Earth In India Dew To Terrorists Utilization Of Google Earth For Attacks .
Here Is The News From ibn live
New Delhi: Mumbai attack terrorists used Google Earth to memorize roads and find targets on 26/11.
Even today, India's military bases, nuclear power plants, and political locations can be seen on Google earth. It's a matter of national security that one Mumbai lawyer has taken it in his own hands by filing a PIL. "I can see the airbase, the nuclear reactors, a lot of sensitive places around Mumbai, the number of airlines on the runway. I understand this is not updated data but it's the most updated data we have," advocate, Amit Karkhanis. But Google has also helped in flood relief in Gujarat, Tsunami relief and even the earthquake relief in Kashmir. It is technology often used for the good of people. But Google India does already have some restrictions, having to stay 100 meters away from objects on the map. If you zoom in further, they blur. Even the Oberoi hotel can only be seen at a distance but even this restriction isn't full proof. "I know of a website called hackzine.com which gives you step by step instructions on how to break these restrictions," Editor, CHIP, Brian Pereirra. Google is willing to work with the government. "We are willing to work with the government which is what is important. We believe we are contributing the community that is working with government and with parents and communities," says Shailesh Rao of Google India.The Indian Space Research Organisation is currently working on Bhuvan, an online map system 10 times more precise than Google Earth. It could do wonders for the remote corners of India. Do we ban this too, and banning all the sites may not be a good solution. Technology can always be misused – the – the 26/11 terrorists accessed the web through a blackberry; they used satellite phones, wifi laptops. The solution seems in mastering these technologies. Countries like China and the US have worked with Google to blur out sensitive locations, such as the White House.
News Source : ibn live
More News : Complete ban on 'Google earth' sought