The Debian Project is pleased to announce the official release of Debian GNU/Linux version 5.0 (codenamed "Lenny") after 22 months of constant development. Debian GNU/Linux is a free operating system which supports a total of twelve processor architectures and includes the KDE, GNOME, Xfce, and LXDE desktop environments. It also features compatibility with the FHS v2.3 and software developed for version 3.2 of the LSB.
Debian GNU/Linux runs on computers ranging from palmtops and handheld systems to supercomputers, and on nearly everything in between. A total of twelve architectures are supported: Sun SPARC (sparc), HP Alpha (alpha), Motorola/IBM PowerPC (powerpc), Intel IA-32 (i386), IA-64 (ia64), HP PA-RISC (hppa), MIPS (mips, mipsel), ARM (arm, armel), IBM S/390 (s390), and AMD64 and Intel EM64T (amd64).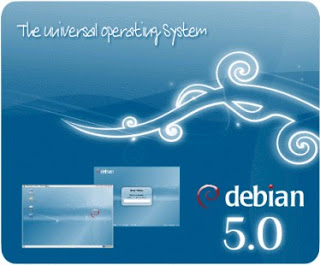 Debian GNU/Linux 5.0 "Lenny" adds support for Marvell's Orion platform which is used in many storage devices. Supported storage devices include the QNAP Turbo Station series, HP Media Vault mv2120, and Buffalo Kurobox Pro. Additionally, "Lenny" now supports several Netbooks, in particular the Eee PC by Asus. "Lenny" also contains the build tools for Emdebian which allow Debian source packages to be cross-built and shrunk to suit embedded ARM systems.
Debian GNU/Linux 5.0 "Lenny" includes the new ARM EABI port, "armel". This new port provides a more efficient use of both modern and future ARM processors. As a result, the old ARM port (arm) has now been deprecated.
This release includes numerous updated software packages, such as the K Desktop Environment 3.5.10 (KDE), an updated version of the GNOME desktop environment 2.22.2, the Xfce 4.4.2 desktop environment, LXDE 0.3.2.1, the GNUstep desktop 7.3, X.Org 7.3, OpenOffice.org 2.4.1, GIMP 2.4.7, Iceweasel 3.0.6 (an unbranded version of Mozilla Firefox), Icedove 2.0.0.19 (an unbranded version of Mozilla Thunderbird), PostgreSQL 8.3.6, MySQL 5.0.51a, GNU Compiler Collection 4.3.2, Linux kernel version 2.6.26, Apache 2.2.9, Samba 3.2.5, Python 2.5.2 and 2.4.6, Perl 5.10.0, PHP 5.2.6, Asterisk 1.4.21.2, Emacs 22, Inkscape 0.46, Nagios 3.06, Xen Hypervisor 3.2.1 (dom0 as well as domU support), OpenJDK 6b11, and more than 23,000 other ready-to-use software packages (built from over 12,000 source packages).
With the integration of X.Org 7.3 the X server autoconfigures itself with most hardware. Newly introduced packages allow the full support of NTFS filesystems and the use of most multimedia keys out of the box. Support for Adobe® Flash® format files is available via the swfdec or Gnash plugins. Overall improvements for notebooks have been introduced, such as out of the box support of CPU frequency scaling. For leisure time several new games have been added, including puzzle games as well as first-person shooters. Also notable is the introduction of "goplay", a graphical games browser offering filters, search, screenshots and descriptions for games in Debian.
The availability and updates of OpenJDK, GNU Java compiler, GNU Java bytecode interpreter, Classpath and other free versions of Sun's Java technology, into Debian GNU/Linux 5.0 allow us to ship Java-based applications in Debian's "main" repository.
For More Click Here