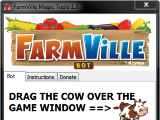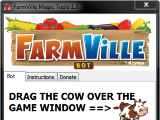 Farmville Magic Tools Now At Version Is A Bot Tool For Farmville Game That Automates Some Of Basic Functions Of This Game, As Plowing, Planting Seeds, Harvesting.

Farmville Magic Tools Makes Your Farmville Life Easy And You Will Earn A Lot With This Farmville Cheats Tool!
This Hack Will Help You Harvest, Plow And Plant Crops In The Game Faster. You Will Also Be Able To Harvest Trees And Animals With A Single Click.
How Does Farmville Magic Tools Work?
To Use Farmville Magic Tools, Download The .Zip File Onto Your Desktop. The .Zip File Contains A Text File And The Magic Tools Program (A Simple .Exe File). Double Click On The .Exe File And It Will Launch. Then Open Farmville In Another Window. Scroll All The Way Out In Farmville, Then Drag And Drop The Cow In Magic Tools Over Your Farm. Then Select Magic Plow Tool, Magic Plant Tool And Magic Harvest Tool And Ripe Crops Will Automatically Be Harvested, Plowed And Seeded.
The Hack Also Has An Option To Automatically Harvest/Collect For Trees And Animals. Just Select A Tree/Animal And All Of The Harvesting Will Be Done With A Single Click.